June 14, 2023
Reform the SBA Coalition meets with US Senator Ben Cardin
Today, David Levine (president/co-founder) of the American Sustainable Business Network, Frank Knapp (national coordinator of the Reform the SBA: BIGGER Mission, Authority and Resources national coalition), Mia Woodard (ASBN VP of Policy and Government Affairs) and Noah Oppenheim (ASBN Coordinator of Business for Conservation and Climate Action) met with U.S. Senator Ben Cardin (Chair of the Senate Committee on Small Business and Entrepreneurship) and key staff.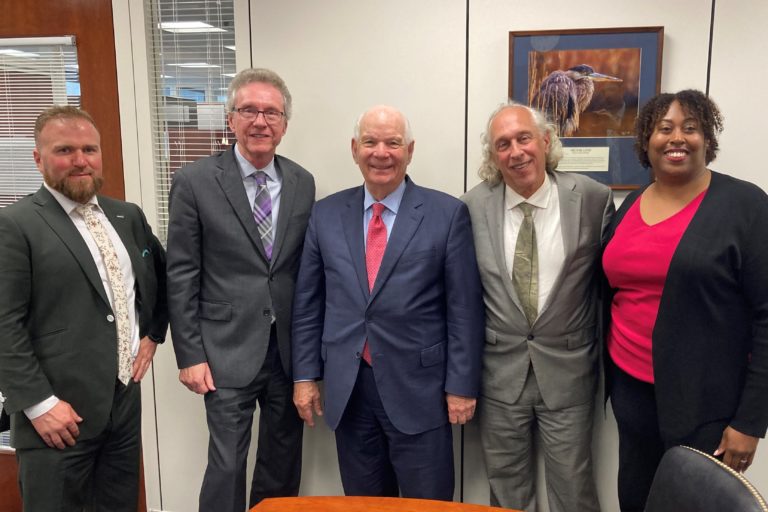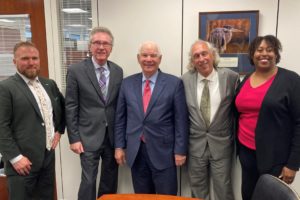 At that meeting, Sen. Cardin indicated his support for small-dollar direct lending by the SBA to address the access to capital deficit in our underserved and rural communities.  This is a top recommendation of the Reform the SBA coalition, which ASNB is a member.  However, Senator Cardin pointed out that the present make-up of Congress would not allow that to happen.
Sen. Cardin, who is retiring after this term, is pushing to codify the SBA Community Advantage Loan Program, which started as a pilot program in 2011 and will end very soon.  This program focused on getting more small business loans made by traditional lenders and CDFIs.
While the CA track record is not overwhelming, it has produced in spite of loan recipients being required to have good credit scores and personal guarantees.
Sen. Cardin was presented with three recommendations to include in the codification of the Community Advantage Loan Program to improve the success of the program in having more SBA-backed small business loans made in underserved and rural communities as well as to cooperatives.  Those recommendations were:
Small-dollar loans in underserved and rural communities should not be subject to the SBA mandated personal guarantee. While such personal guarantees are used to prevent fraud and abuse, their requirement is a major obstacle for the entrepreneurs in underserved communities who don't have personal assets for such guarantees or who are unwilling to risk the little their family has.  In these cases, addressing potential fraud and abuse in small-dollar loans can be achieved through the use of non-traditional underwriting that is explained below.
Small-dollar loans in underserved and rural communities should not be subject to a good SBSS credit score which gives a strong weight to personal credit and business credit. Entrepreneurs in underserved and rural communities often do not have good personal credit and there will be no business credit if the loan is for a startup.We recommend non-traditional underwriting for loans to entrepreneurs in underserved and rural communities that is weighted in favor of assessment of character and community support.  A successful model of this non-traditional underwriting process is in use by the Forge Community Loan Fund in Arkansas. This underwriting process recognizes that the ability of the borrower to execute a good business idea and the support and/or need for the business in the community are better predictors of success than credit scores.  The Forge Community Loan Fund uses local assessment by community-based peers who share the lived experience of the borrower and will see the business plan executed in their community.  This effectively results in both the borrower and the community-based peers, who make those assessments, accountable to one another to ensure the business succeeds. The emphasis on character and community-based lending along with technical assistance before and during the loan also effectively addresses concerns of fraud and abuse thus eliminating the need for personal guarantees.
Loans to broad-based ownership businesses, such as cooperatives (worker, consumer and union) and Employee Stock Ownership Plans (ESOPS) should not be subject to the SBA
mandated personal guarantee either for loans to purchase an existing business or for
Cooperatives and ESOPS offer an excellent opportunity for entrepreneurs in underserved and rural communities to start and grow businesses.  However, the personal guarantee requirement is an almost insurmountable roadblock.  This problem was addressed in previously proposed legislation by Senator John Hickenlooper and in the House Build Back Better Act.